| | |
| --- | --- |
| Posted on 1 December, 2017 at 14:15 | |
WOW! - Vocals recorded yesterday up in Spittal, Berwick-upon-Tweed (I almost crashed the car twice driving to and from Ferryhill, Durham, in the awful conditions!) at Awake Music!, produced and engineered by my dear friend, the amazing Iain Petrie, for my new version of 'The Durham Light Infantry' (first written in August 1985 when I was a stripling of 18 years, and original version recorded by my old band The Whisky Priests in 1989 for the band's debut album 'Nee Gud Luck').
This new version features new lyrics and an incredible backing track by The Ferryhill Town Band and is part of my 'From Coalfield to Battlefield' Project with my soul-mate partner Helen Temperley, for the DLI Research and Study Centre's 'When The Bugle Calls' 12-month travelling exhibition, to be launched at Bishop Auckland Town Hall, County Durham on Tuesday 5th December. I am so proud of what Helen, Iain and me have achieved between us to-date, with the contributions of so many wonderful friends. This is a project very dear to my heart and I feel we have already achieved something truly special, against the odds, with much more to come (with 4 songs in the bag we are working towards a full album throughout the coming months - 'The Final Letter of Jimmy Durham' is one of these songs I am particularly excited about).
I was only approached in late October about permission to use my original version of the song for the exhibition. I immediately saw the opportunity to develop things further but was told by Durham County Council that, although they would support us in spirit, the budget was spent and no additional funding was available (this is the UK arts, remember!), so with my creative mind "on a mission" there was no other recourse but to fund it myself (too late to approach alternate funders in time) and even though my lovely partner Helen is apt to say "we haven't got a pot to piss in but we're happy", we have persevered and I am truly proud of where we have gotten with this so far. Helen's illustrations are especially phenomenal.
And all this within a matter of weeks, during which time we have suffered the tragic loss of Helen's mother, the insprirational and irreplaceable Val (who I know has been there in spirit pushing us on, as I have felt her presence on numerous occasions), as well as other major distractions, such as the release of the 'Mad Martins' 3xCD & Book (following many unforeseen delays), a fantastic trip to Durham's twin town of Tübingen to promote the 30th anniversary of the literary twinning between these two lovely regions, due to the efforts of Keith Armstrong and the launch of a superb 30th aniversary anthology of works by artists from both regions (including 3 pieces by myself), and the ongoing illness of my own elderly parents.
There has barely been time to draw breath! So, please, if you are in the area any time, check out the exhibition (launched at Bishop Auckland Town Hall on 5th December where it will spend 4 months before travelling the whole of County Durham throughout 2018), give the song a listen on the soundpost ('Euphonium and Cornet' is also included), and look out for the CD and further news as we post it.
In the meantime, Helen has just completed this fantastic illustration to accompany the song : -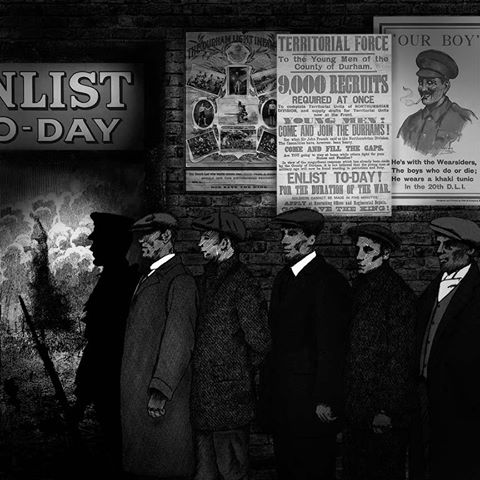 Categories: None