| | |
| --- | --- |
| Posted on 27 November, 2017 at 15:05 | |
I'm so proud to unveil Helen's finished illustration to accompany my song 'Ballad of Lance-Segeant William Stones' for the 'From Coalfield To Battlefield' project for the upcoming DLI Research and Study Centre 'When The Bugle Calls' exhibition about the Music of The Durham Light Infantry. In the meantime, I'm really looking forward to tomorrow's recording session with the Ferryhill Town Band, when they will be recording a full brass band arrangement for my song 'The Durham Light Infantry', in the wodnerful venue of Mainsforth and District Institute, Ferryhill, with my great friend, producer and arranger Iain Petrie engineering.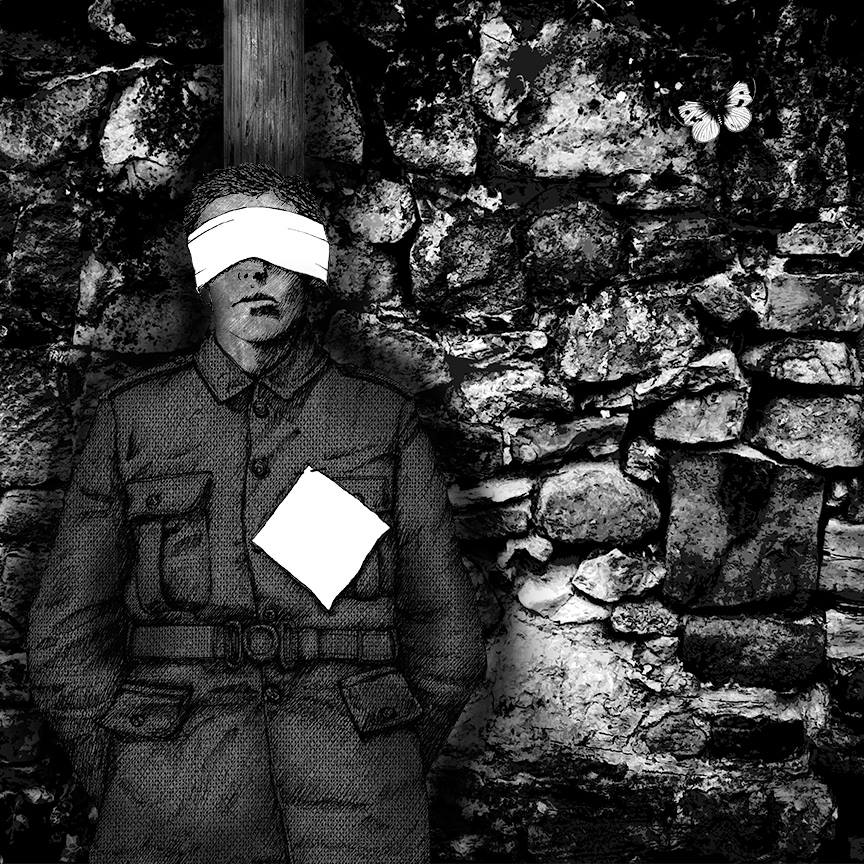 Listen to my solo version of the song here.
BALLAD OF LANCE-SERGEANT WILLIAM STONES
My name is Joseph William Stones
The life-blood of Durham ran deep in my bones
A miner from Crook standing all of 5' 2"
Deemed too short to fight, fit only to hew
But I then joined the Bantams in 1915
A volunteer in the Durham Light Infantry
A lance-sergeant decorated for extreme bravery
Shot at dawn as a coward in 1917
The terror of the guns I bravely defied
The horrors of the trenches I somehow survived
Only to face death by a different name
Stripped of all honour, butchered in shame
Though my superiors cast glowing testimonies
I was guilty as charged, my Court Martial decreed
British Army justice, so cruel and so vague
The brutal tyranny of Bloody Butcher Haig
As the sentence was passed my stomach turned weak
But they'd given me no permission to speak
I simply stood there as my glazed eyes gazed through
The blank faces of my judges who no mercy knew
The ambulance driver's head hung in shame
Driving us to our doom at the dawn of the day
Blindfolded, manacled, two lance corporals and I
Each tied to a post, sentenced to die
A farmyard near Arras, the last place I saw
So quiet and peaceful amid the horrors of war
Thirty-six bullets and thirty-six men
Twelve for each prisoner, how could they fail then?
Yet not one of those men fired a shot that rang true
Afraid of guilt's burden, what else could they do?
As the firing squad officer his pistol he drew
And our brains and our souls to eternity blew
"Braver men I never have met"
Were the words of the chaplain who wrote with regret
How he'd prayed with us before that fatal dawn
And how we were murdered on that terrible morn
There were no birds to sing, no bugle to play
The Last Post as they carried our bodies away
Just a sad mournful breeze to usher our souls
To the Great Unknown, where no guilty bell tolls
Oh Lizzie, my Lizzie, you were victimised too
"There's no pensions for coward's widows", they told you
As they left you to rot and go quietly insane
Alone with your memories, your loss and your pain
Three hundred and five others were damned just like me
To walk the Ghost Road through eternity
These doomed youth an anthem and peace were denied
Unjustly condemned, shot by their own side
My name was erased from the family line
To be rediscovered and restored after time
Now eighty years after I was slaughtered in shame
The local memorial at last bears my name
A Royal Pardon was granted at last
Ninety years after the sentence was passed
And even though the conviction remains
I suppose we must welcome any small gains
Now they call it Post-Traumatic Stress Syndrome
A cause that in my time was simply unknown
And though no-one else should suffer like me
From the evil of War we will never be free
(Gary Miller)
Categories: None